So, you've been working from home for a while now, but you've never felt truly comfortable in your home office space. Whether you've set up your workspace at the kitchen table, in the living room, or have transformed the spare room into a makeshift home office, you risk having a proper space to call your own.
This can severely hamper your productivity, efficiency and focus. What's more, the comings-and-goings of your family make it impossible to get enough peace and quiet. So what's the solution? There are few things better than a back garden office which gives you a specific place to work from home without feeling you're at home.
And why wouldn't you want a garden office space? Rather than being cooped up inside, you can enjoy the tranquillity of nature. Furthermore, you eliminate your commute and keep the house the way it should be – for relaxation and family time. If you're looking for garden office ideas, you've come to the right place.
Garden Office Design And Build
Before you build home office in garden spaces, it's important to consider the design and the build. Garden Rooms 365 offers high-quality garden office layout design and build options for every space. This includes steel screws that secure the foundations and require no digging, with the job completed with minimal noise and disruptions that saves money and is environmentally friendly.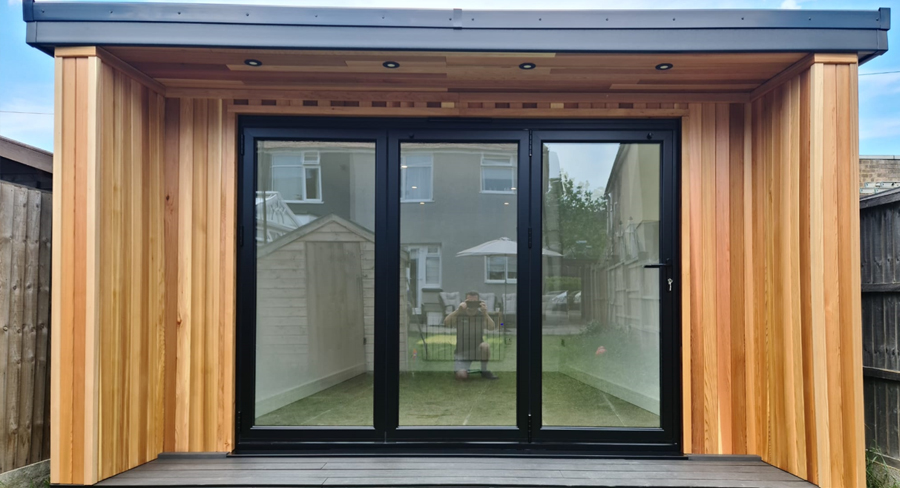 Our home office buildings for the garden includes multiple door and window options. We also build sturdy walls that provide breathability and include all the essentials, such as sockets and lighting to make your garden office as comfortable as possible.
Garden Office Layout
No matter what home office outbuilding ideas appeal to you, we have a solution to suit your needs. We will analyse your outdoor space to ensure the proposed office shape and layout works for you. Our custom garden rooms will be designed to match your specific requirements, so there is plenty of space to work, play and relax comfortably all year round.
Garden Office Interior Ideas
Garden office interior design is always important. Whether you're looking for a space that encourages productivity, creativity or tranquillity, you have complete control over how you decorate your office. We also design an insulated garden office room for music practice or entertaining, allowing you to fill it with televisions and sound systems that meet your demands.
As this is your personal space, there is no limit to what you can achieve. This includes a breathable environment and windows that let in as much natural light as possible so you can stay motivated throughout the day. Speak with our contractors during the construction process to get an idea about what you need. We will even paint the walls for you if you desire.
Garden Office Build Cost
Cost is always vital when considering your new garden room. Our garden office design options start from £14,211, with the price adjusted for any bespoke designs and additions. A multi room garden office starts at £22,000, and you have the option to design oak garden office buildings or rendered or stone to match your specifications.
Our range of design, size and pricing options means there is a garden office for every need. This is why Garden Rooms 365 is the industry leader when it comes to garden office buildings that will transform your home, make it more livable, and even boost your property value.
Garden Home Office Building Regulations
Before deciding which outside office ideas work best for you, you must consider potential building regulations. We do not build garden rooms that attach to the house, although we will build within 500 mm of any existing structure, whether your house or your fence.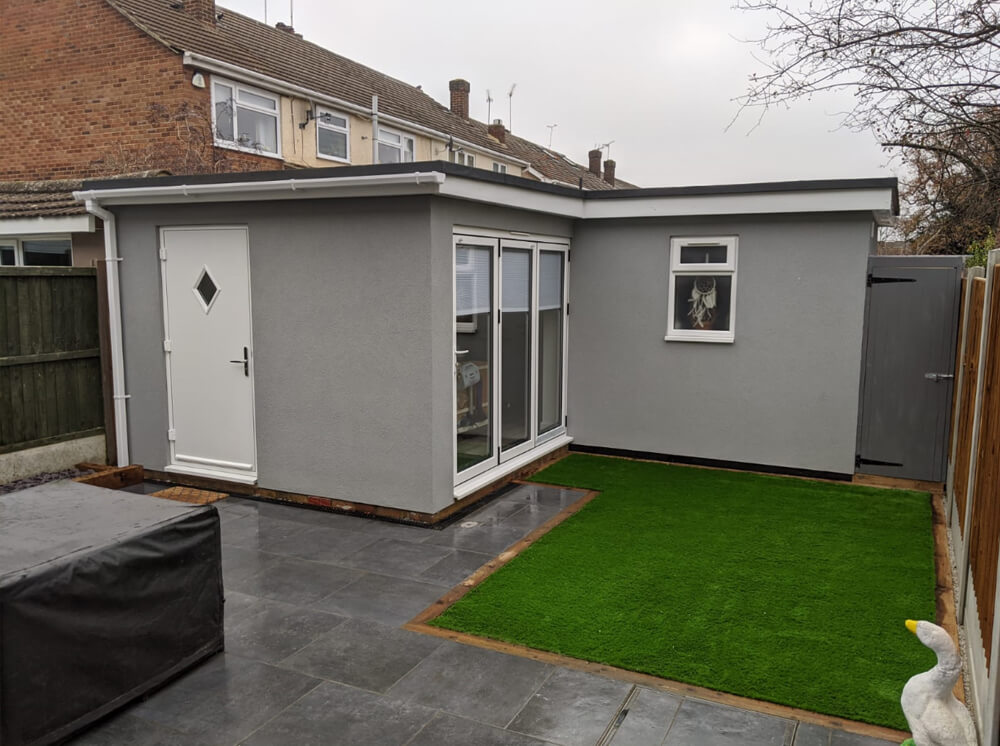 You will need to check local building regulations and permissions before getting in touch with us. This is because the room must match specific standards if it is to be used for health and safety reasons. The garden room mustn't cause obstructions or be too close to your neighbours.
However, as our garden rooms are freestanding, it is unlikely you will need planning and building permission. Our garden offices fall under the same category as sheds or summer houses, allowing a quick process that makes it easier for our team to construct your dream garden office. Despite this, we still recommend double-checking with the local authority before contacting us to prevent disappointment.
Garden Room Extras
A garden office does not just need to be a place to work. Our designs come with the potential for essentials and extras to make your experience more comfortable, enjoyable and convenient. We can offer garden office buildings with toilet and shower facilities and even mini kitchens. This adds bounds of potential to your garden office ideas and makes it a multi-functional space for the whole family.
These extras enable you to work throughout the year without being too hot or too cold. Similarly, you can also repurpose the room as a guest area if there's not enough space inside. With all these amenities, there is no limit to what you can use your garden room for, and it's a fantastic way to add something functional and fantastic to your home.
Garden Rooms Can Also Be Used For
Besides your initial ideas for your garden office design and build, there are plenty of other ideas to consider. Your garden office isn't just a place for you to work, especially if you end up returning to the office full-time or retire. You mustn't let the structure go to waste, so consider these useful ideas for what garden rooms can also be used for.
Barbers Garden Room
Whether you're qualified or in training, a garden room is a great place to welcome barbershop customers, especially when doing favours for friends and relatives.
The same goes for hair salons. Your garden room can be transformed into a stylish home studio that won't take up space inside the house.
Nail salon Garden Room
Nail technicians have also found success with a garden room. A table and comfortable chairs are enough to get started, but you'll also need a light fixture above to ensure visibility.
Aesthetics Garden Room
Even if you don't have any professional needs for your garden room, you can still find summer house office ideas that enhance your garden and add some sophistication. An aesthetics garden room is just the4 solution, and it gives you a chance to get creative with the decor to add something different to your home.
Rather than cause a ruckus inside your home, a garden room for music lessons is perfect. It will require sound insulation, of course, but it's a fantastic way to teach up-and-coming maestros, or simply practice your drums, guitar, piano, or even the ukulele without disturbing the family and neighbours.
Photography Studios in Garden
Passionate photographers can use their garden office room as a professional studio. From modelling shoots to product photographs, or even abstract ideas that play around with light and shadow, a garden room offers plenty of potential.
Dance studio in Garden
Large garden office options can offer the chance for dance studios. These are bigger than your average garden office, but they are a great way to practice either alone or with your troupe.
Osteopathy Room in Garden
Massage therapists and physiotherapists need enough space for a massage table and enough space to bend, twist and ease sore muscles. Your garden room could be the perfect spot for this, especially if you add some soothing sounds and rejuvenating fragrances.
You may remember the Wendy houses of your youth, and these garden rooms take that to a luxurious next level. If you need the kids out of the house but still on your property, a garden room for childcare can keep them entertained if you fill it with games, toys, and more. Plus, you can set a desk and chair up and give them a quiet place to finish their homework.
Garden room for a personal trainer
You already know how important fitness is, but if you can't get to the gym, a garden room for personal training is the next best thing. Professional trainers can also welcome clients over for a session, meaning you don't need to book out studios at the local gym.
Garden room for art studio
Garden transforms your garden room into an art studio and feels inspired by the wondrous beauty of the surrounding nature. From sounds to sights, it is a superb way to tap into your creativity.
Florist garden
Professional florists need somewhere to grow stock, and if you're running out of space in your garden, you can fill your garden room with planters, pots and more to grow exotic and local plants and flowers that will brighten someone's day.
Contact Garden Rooms 365 for Garden Office Buildings Essex
Your new garden office space is just a phone call away. Get in touch with Garden Rooms 365 today for more information on our products and to receive advice on which garden office ideas work best for your situation. Give the team a call at 01268 964193 or 07947 613 679, or send an email to info@gardenrooms365.co.uk.