There is absolutely nothing quite like enjoying your favourite drink in your garden during a blistering heatwave. But as we all know, the ever-reliable British weather doesn't always mean that we can enjoy the sunshine, even when it's the summer! If you are looking for a way to make the most of your garden while sipping on your favourite beverage a garden bar is truly what you need.
GARDEN ROOM BAR IDEAS
The great thing about a garden bar is that it can be absolutely anything you want. Because it's a unique space situated away from the rest of the home, you've got the creative freedom to decorate however you want. The options are infinite, but here are some amazing ideas that we love:
Pool Bar
A poolside garden bar is just what the doctor ordered when the sun comes out to play! There's nothing quite like having a gin by the pool in the middle of summer, and if you're not going on holiday anytime soon you can bring the holiday to you! A poolside bar is an amazing way to feel relaxed and soak up the sun when it finally comes out!
Pub Shed
If you like things more traditional and you are longing for a pub in the comfort of your own home that takes you back to simpler times, you can add a garden pub that will make your neighbours envious. Like a garden shed, but with so much more, you can pick out your favourite furniture and accessories to create a very simple yet effective garden pub.
Gin Palace
If you want something a little more upmarket, a gin bar is an amazing and stylish addition. You can create a luxurious feel with touches of artwork, leather sofas, and accent colours that create a modern feel.
Sports Bar
If you have no interest in the traditional or the modern, you can opt for one of the most popular themes out there. Sports bars can create an amazing and vibrant environment where you can bring friends over to watch the game, or finally, use it as a space to hang up all of your sports memorabilia!
GARDEN BAR DESIGN PLANS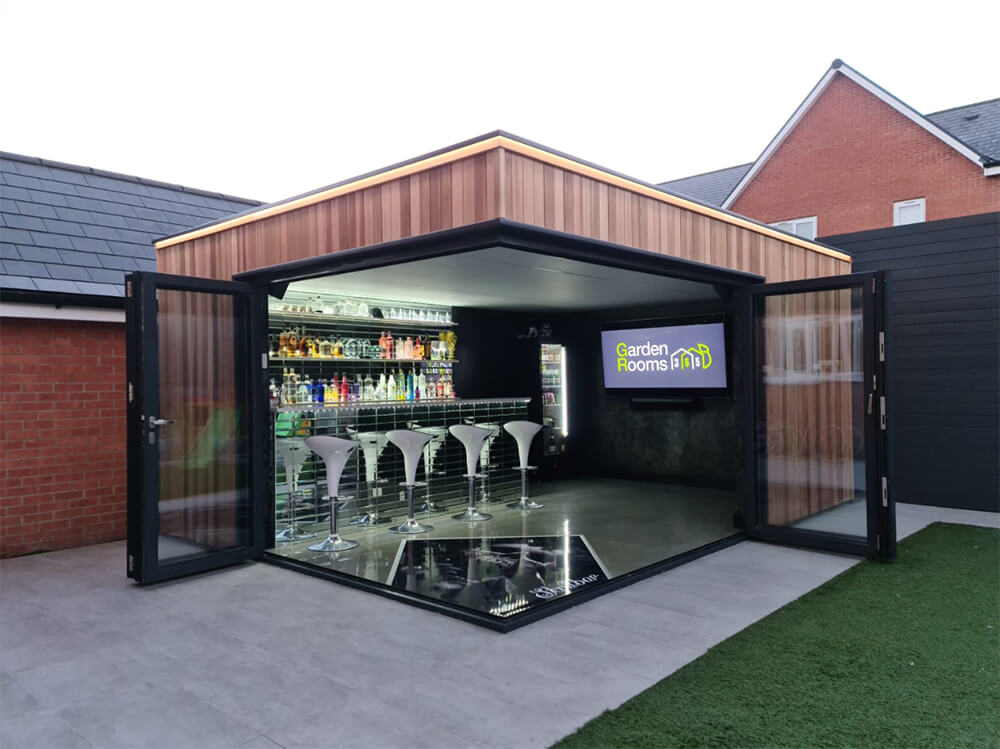 Designing a stylish garden bar is not always so easy because you need to create the ultimate bar experience in the comfort of your own home. But here are a few ideas to make sure that the space truly pops: 
The Right Seating
When it comes to choosing the right seating, comfort is crucial. You need to find a comfortable seating solution that is stylish but also accommodating. Timber bar stools or booths are an amazing way to create an authentic bar atmosphere, or if you are looking for something less formal, armchairs and sofas can create a more relaxed atmosphere.
Games and Activities
If you want to create your own sports bar with all your favourite games like ping pong or snooker, a garden bar room makes for the perfect space where you can have a lot of fun and have a drink or two. You can also add a widescreen TV and state-of-the-art sound system to bring that garden bar atmosphere to life, especially when the big sporting events are on.
Drinks Display and Storage
Any garden bar would be incomplete without the right drinks. You can opt for having beer on tap, which makes serving drinks simple and easy, but you can also go one step further by making a grand statement with a mirrored shelf behind the bar, complete with all of the finest glassware and liquor. If you like wine, you can also incorporate storage ideas to keep your alcohol cool beyond the simple fridge, such as wine coolers.
GARDEN BAR DECOR IDEAS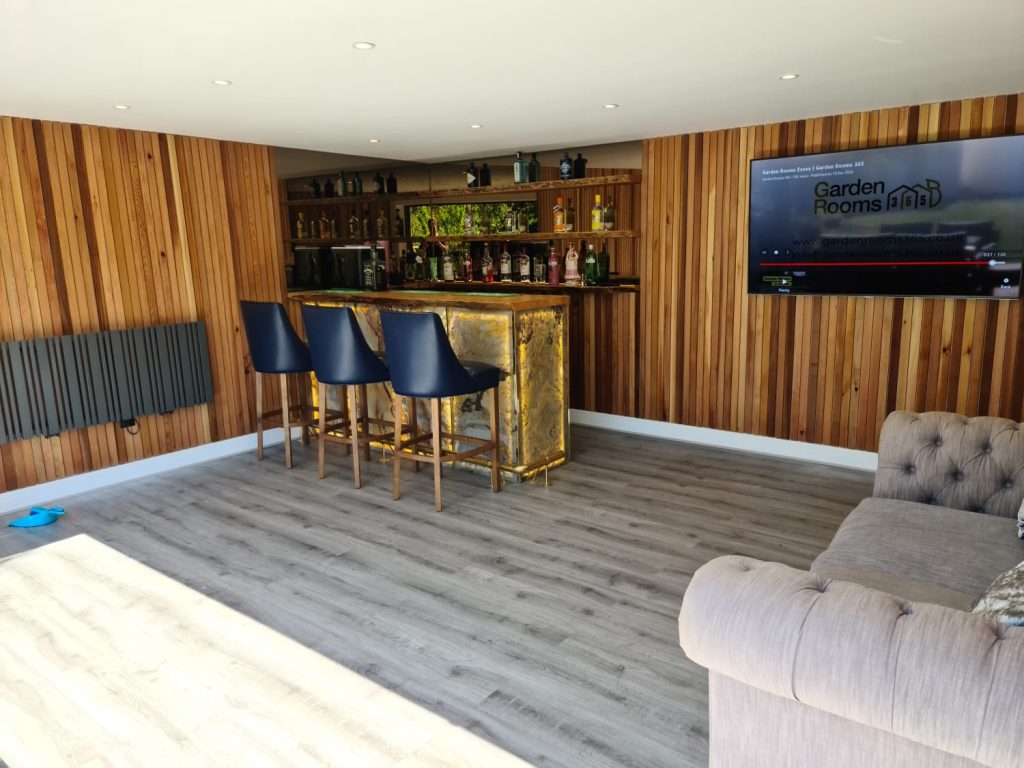 One of the greatest things about having a garden room bar in your home is that you can design anything exactly how you want. The decor is such an important part of what makes your garden bar unique to you. From themes such as a sports bar, cocktail or gin bar, you can design your bar with the things that make you want to come back to this place again and again.
It's all about the little touches; from an oak barrel that communicates a rustic earthy pub style, all the way through to quirky signs, garden bar decor can make a big difference to how the space feels to you and the people who frequent it. If you are looking to create a more traditional pub environment, you can decorate it with traditional tavern chalkboards but also go for items like dartboards and mirrors branded with your favourite beverage to ramp up the pub feeling.
Let's also not forget when it comes to decor, lighting is so important in a bar environment. You may like the idea of a dark and dingy bar where you are propping the end of the bar up or you may want a more vibrant cocktail bar environment. Either way, having the right lighting can make a big difference in how the space feels. It will make the space feel cosy or more lively. Whatever you decorate it with, remember to make sure that your guests (and yourself) feel like it's a home from home!
CONTACT GARDEN ROOMS 365 FOR MODERN OUTDOOR BAR IDEAS
We spend more time at home than ever, which means that while so many people are looking to go out, the fact is that now if you want to create an amazing home environment where all your friends can come over, an outdoor bar is the way to do it! You can get in contact with Garden Rooms 365 today for more information on our products and get some inspiration to create the garden bar of your dreams. You never know, you may never want to visit a pub ever again! You can get in contact with us at 01268 964193 or 07947 613 679, or send an email to info@gardenrooms365.co.uk.