Working from home is becoming more common than ever due to the pandemic, but those changes look like they are here to stay. It's cheaper for businesses if people work at home and most employees tend to prefer the flexibility. However, home working is only productive when you have a good office space. You won't get much done if you sit in front of the TV with your laptop all day.
You may have room for an office inside the house but if you are short on space, you need to consider other home office ideas. Installing home office buildings for the garden is a brilliant way to create the ideal working area without taking up valuable space inside your home. They also offer a more relaxed, pleasant environment to work in. In fact, studies show that lots of bright sunlight and greenery are good for your productivity and your stress levels, so working from a garden building is perfect. It's also a good way to avoid any distractions in the house and keeping your work area separate from the home helps to improve your work-life balance.
If you want to get the most out of your new office, you need to start thinking about some garden room ideas and consider interior ideas so you can make the space look amazing. The better it looks, the more comfortable you will feel there, which ultimately means you get more work done. But that's easier said than done because there are a lot of factors to consider when designing and building a garden office. This guide will tell you everything you need to know to get your brand new garden office set up perfectly.
Home Garden Office Layout Ideas
The first step when choosing home office buildings for the garden is to decide on the layout that you want. This is dependent on a number of factors, including the space available to you in the garden and your needs inside the office.
You don't want the office to take up your entire outdoor space, so you should only consider a large garden room if you have a large garden.
As well as thinking about the size of the garden, think about what you need in your office. You'll need all of the obvious things like a desk and a chair, as well as your computer. If you are using a desktop instead of a laptop, you'll need a little bit more space. But what about other things like printers and scanners? Make sure you don't forget these extra bits of office equipment when making your plans.
Heating is another important consideration. In the summer, your garden office will be nice and warm but when the winter comes, it will get a bit cold, even if you go for an insulated garden office room. Whether you decide to install a central heating system or just use electric heaters, you will need to account for the space that they take up.
Finally, think of any added extras you might like in the room. Do you want to have a mini-fridge in there so you can have cold drinks and snacks while you're working? Maybe you can't live without coffee and you don't want to be back and forth to the house all day, so you want a coffee machine.
Styles
Once you have an idea of the amount of space you will need, you can start looking at different garden room styles. There are a lot of options, so spend some time comparing different kinds of garden rooms and think carefully about what suits your needs best.
Shape
Garden rooms can be constructed in all sorts of shapes, so you don't have to go for a basic square or rectangle. A corner garden room, for example, is brilliant if you don't have too much space in the garden and you want it tucked out of the way. You can still get a sizable garden office without taking up all of your outdoor space. L-shaped rooms are another great option if you have an awkwardly shaped garden or you just want something a bit more interesting than a simple square room.
If you need more space in your home office, you should look into a multi room garden office. You will, of course, need more outdoor space but it's the perfect solution if multiple family members are working from home.
Materials
As well as the shape, you need to decide on the construction materials and cladding. There are timber and steel framed options available and you can choose from a range of different cladding materials too. If you want a cosy, traditional style, you could go for oak garden rooms or cedar clad garden rooms. However, if you are looking for a more modern, minimalist style, metal finishes work best.
Garden Office Interior Ideas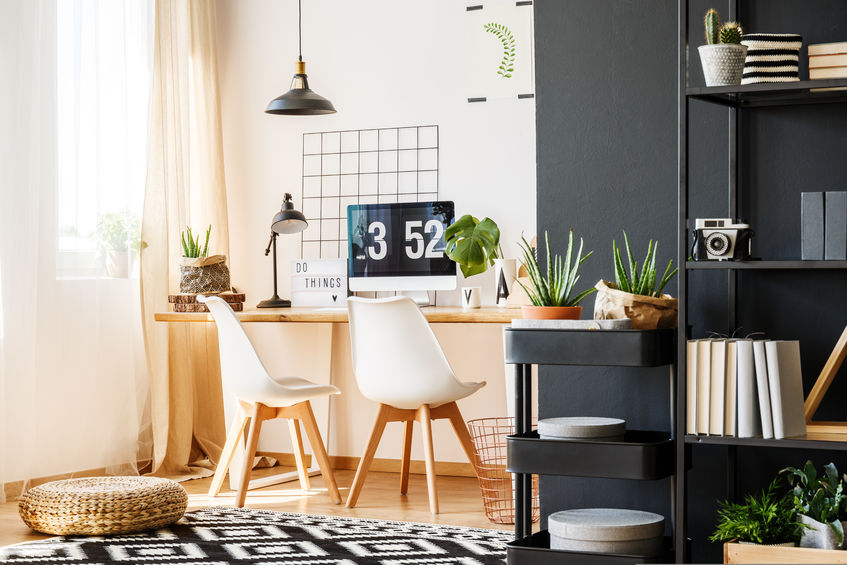 After deciding on the shape and style of your new home office, you need to turn your attention to garden room interior ideas. Designing the perfect office means creating a space where you feel comfortable and inspired, so you can work productively. The happier you are in the office, the better your work will be.
The great thing about a garden room is that you don't need to worry about matching the style to the rest of the house. It's your own space where you can experiment and create something that is unique to you.
The first step is to decide on the overall decor style. Many people opt for the Scandi style when designing their home office. This decor style has a strong focus on clean lines, minimalist design, and functionality. If you are looking for small office decor ideas it's perfect because it removes distractions and creates a light, open space without clutter. Keep things simple and paint using neutral tones. When choosing garden room furniture, go for basic wood and metal desks and chairs that are functional yet elegant.
Alternatively, you could go for a rustic, inviting space. If you like to shut yourself off and bury yourself in your own world when working, this is the decor style for you. A cedar clad garden room gives you that great log cabin feel, and you can add some nice soft lighting to give that relaxed atmosphere. When it comes to furniture, check out some antique shops and charity shops to get some nice old pieces to complete the look. You could even add a bookcase and a nice armchair in the corner so your office doubles as a hidden reading nook in the garden.
Storage is important too, so consider adding some shelving around the desk. This gives you a place to keep things but also a place to display any pictures or ornaments. These little touches make the office feel more personal.
If you are going for a minimalistic style, it's important to add small bursts of colour around the room. Wall art is a simple but effective way to do this. Consider adding some plants too because they really brighten up the office and they have been shown to increase productivity. They will also clean the air and reduce issues with indoor air pollution.
The most important thing to remember when decorating your garden office is that you should make it unique to you and fill it with things that bring you joy.
Do You Need Planning Permission For An Office Garden Building?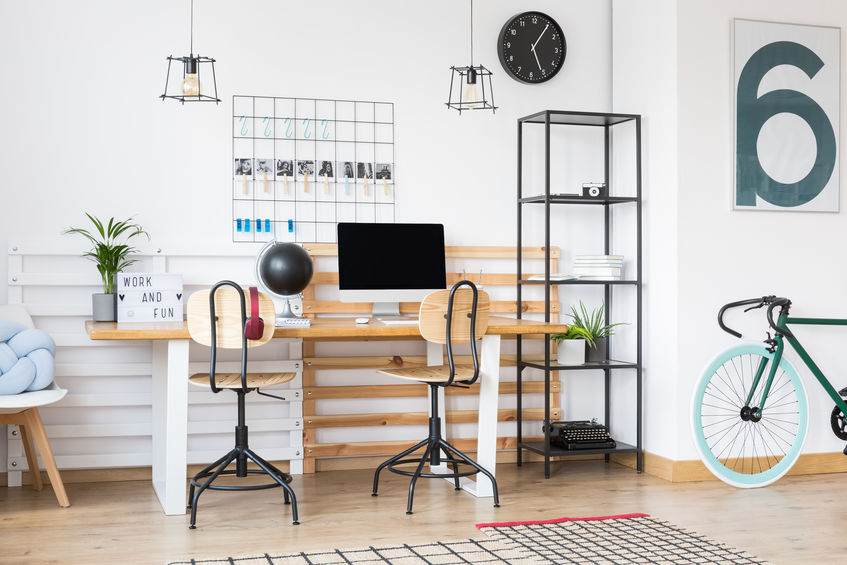 People are often concerned about planning issues when building a garden office, but there is no need to worry. Garden rooms are considered to be outbuildings rather than extensions to your home so, in most cases, you don't need planning permission as long as you stay within a certain set of rules. Notable exceptions to this include houses that are listed buildings or properties that are in national parks, world heritage sites, or conservation areas.
The rules you must meet in order to avoid needing planning permission are as follows:
The garden room cannot be in front of the house.
The total area of all extensions and outbuildings cannot cover more than 50% of the land around your house.
It must be single-storey and no more than 3 metres high. If it is within 2 metres of the boundary, it can only be 2.5 metres high.
It cannot have a balcony.
It cannot be a self-contained living area.
If your garden room does not adhere to these rules, you will need to provide the garden room construction drawings and apply for planning permission. You may also need to apply if you are using the office to meet with clients.
How Much Does A Garden Office Room Cost?
The price of the garden room all depends on the size, style and shape of the room, so it varies quite a lot. A basic corner office starts from £14,211 but the price increases as you add larger windows. The size also makes a difference and you can expect to pay around £35,000 for a 6m x 5m garden office room. On average, the design and construction of the garden room will cost between £15,000 and £30,000, depending on the type of building.
Do Garden Office Rooms Add Value To Your Home?
When considering the cost of building a garden room, you should always think about how much value it will add to your home. Although it is an initial outlay, it's a brilliant investment to make because it adds a lot of value. Again, the exact value is dependent on the type of garden office building but, on average, you can expect to add 5% of the home's total value, so you'll make your money back when you come to sell the house. If you go for a 2 room garden office, that will increase the value even more. As home working becomes more common, these additions will be more desirable and so the value of your home will continue increasing.
How Long Do Garden Rooms Take To Build?
The great thing about garden rooms is that they are so quick to build. Prefabricated options only take between 1 and 5 days to put up. The modular design means that they can be put up very quickly and the lead time to make all of the parts is somewhere between 2 and 4 weeks, usually. So, you could be up and running in your new office in just over a month!
Contact Garden Rooms 365
If you are looking for garden rooms Essex, look no further than Garden Rooms 365. We provide a complete solution from start to finish, beginning with an initial consultation at your home. We will assess your garden area and discuss your needs with you, so we can come up with the perfect design. All of the planning and installation will be handled by our expert team and your new home garden office will be ready to go in no time. Get in touch today to set up your consultation!