Are you trying to find answers to the question of whether you need planning permission for a garden room? You've come to the right place. And the great news is that, under UK guidance, homeowners are permitted to build a garden room without the need for planning permission.
So, does that mean you're free to build any garden room without planning permission? Well, not exactly. There are still several criteria that must be satisfied for you to build a garden structure without seeking permissions. If you fail to meet all of those points, it will be necessary to apply for an agreement on the proposed project.
Moreover, the planning permission garden room guidelines only relate to outbuildings that are not used for sleeping accommodation. If you are hoping to build a garden room without planning permission,the following advice is just for you.
How big can I build a garden room without planning permission?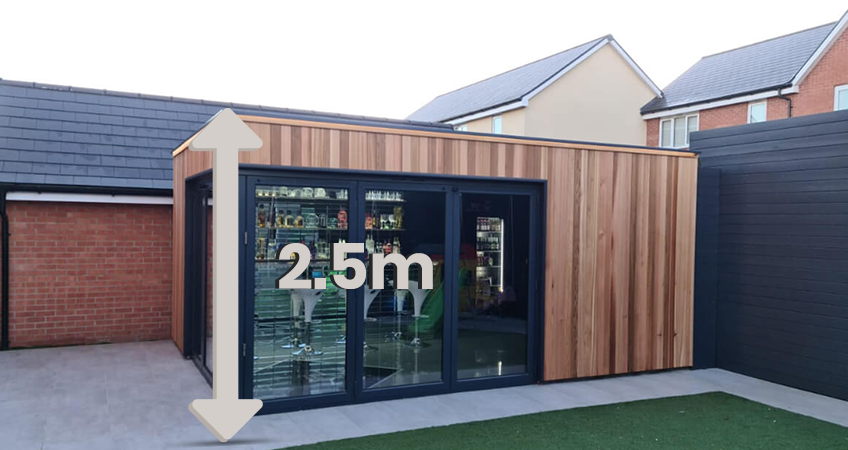 The most basic answer regarding the planning permission garden room guidelines states that the outbuilding must be a single storey construction that has eaves which are not higher than 2.5m. In reality, though, you will need to meet several other conditions. Before starting any proposed project, you'll need to confirm that the following items all meet the instructions;
Location within your plot,
Proximity to other properties,
Volume of land to be built upon,
Construction height.
In addition to the height of the eaves, the garden room building as a whole should not surpass certain heights. A dual pitch roof must not be higher than 4m in height while any other style must not exceed 3m. Furthermore, any building that is within 2m of the garden boundary fences has to stand at a maximum height of 2.5m.
The garden room cannot be built further forward than the front wall of the original building (as of 1st July 1948 or when the property was constructed) while you cannot build on more than half of the overall land. Unfortunately, if you have previously had an extension, those dimensions will count towards this rule regarding the 50% rule.
Garden rooms cannot be built without prior permissions if they contain balconies or verandas of any style.
All of the above regulations apply throughout the entire UK. When planning permissions are needed for outbuilding construction, your hopes of success may be influenced by your local authorities. As long as your building satisfies the national guidelines, however, you won't need to worry.
Additional restrictions to consider for garden room planning permission
As well as the general guidelines that apply to all garden room buildings in all homes, there are additional issues that could come into play. The most telling features are;
Building status.
Type of property.
Location of the home, in relation to protected surroundings.
The location of the garden in relation to the property.
You can only build a garden room without planning permission when the property is a house. Maisonettes, flats, and other property types do not have the same development rights. Similarly, if you have a shared garden, this will pose problems.
If the property is a listed building or your grounds are protected, you will have to apply for permission to get your garden room constructed. This extends to properties that are located in conservation areas, national parks, and areas of outstanding natural beauty as well as the Norfolk or Suffolk Broads.
Therefore, if you are unsure about the situation regarding your property, it is important to check the situation before starting to build any garden room.
Extra tips for garden rooms and planning permission
If your proposed outbuilding will fail to comply with any of the above, it can leave you feeling a little disheartened. It shouldn't. You can still construct the garden room if you gain the required permissions. Enjoying a positive relationship with the neighbours is a good move. Besides, it's always wise to gain their opinions before completing the work out of politeness. On top of this, making them aware of your intentions to build a garden room & what you will be using it for could prevent unwanted friction and also help to influence changes in the design. For example, incorporating soundproofing into your garden room will help to reduce noise & keep your neighbours happy, should you wish to build a garden music studio, games room, garden bar/pub or even a garden gym.
Meanwhile, if you will need to post an application, you must tailor the documents and files to your local authority. If you know how the processes work, you can significantly boost your hopes of securing the desired results in the fastest time.
Take control of your garden room project
Whether you will need planning permission for your garden room building or not, it's worth teaming up with experts that can guide you through the entire project. Our experts provide a world-class and dedicated service from idea to installation.
To find out more or get your project started in style, get in touch with our agents today.