Having your own summer house, garden room or shed can be such a blessing no matter what the season may be. However, it can be monotonous to traipse back and forth from your house to your outdoor haven due to a lack of toilet or shower.
Having a toilet or shower installed inside your summer house, garden room or shed could no doubt be a possibility, as it doesn't take much to install new plumbing and a suitable sewerage system for your outdoor haven!
So, whether you have a garden office amongst the relaxing nature of your backyard, a summer entertainment space for your children to enjoy or even a working shed/hobby room that contains all of your tools and materials while offering space to get creative, adding a toilet or shower is a cost-effective way of taking it to the next level.
It's becoming more popular than ever to have garden buildings, so there's no time like the present to understand more about the limitations and opportunities of such an investment.
CAN YOU PUT A WORKING TOILET IN A SUMMER HOUSE, GARDEN ROOM OR SHED?
YES! A toilet can be installed in a garden room, as it does not need to meet building regulations approval due to its separation and size. Building regulations and planning permissions are not common for a garden room, so they are generally not required for installing a toilet.
For the purposes of planning, a garden room is classed as a small detached outbuilding, which does not usually need to meet any requirements if not connected to facilities or used as living accommodation. This means that you can go ahead with your plans to create the perfect outdoor area that maintains the commodities you need to thrive!
All toilets and showers installed in garden rooms built by Garden Rooms 365 are environmentally friendly. Call us to learn more!
TYPES OF GARDEN BUILDINGS IDEAL FOR TOILET, SHOWER AND BATHROOMS
From a practical perspective, all types of garden buildings can benefit from having a functioning toilet, shower room or bathroom fitted. This is providing the building can be connected to the water supply and sewerage system.
TOILETS IN A GARDEN OFFICE
If your new garden room is primarily used as garden office space, it's impractical to have to leave every time you need to use the toilet facilities. This is especially relevant if you have a customer or several clients visit, or even multiple team members in the garden office at any one time.
Having toilet access for garden offices prevents the inconvenience of having visitors walk through your house, with a self-contained business property that is entirely separate from your living space & family life.
Considering a new garden office complete with its own toilet facilities? Call Garden Rooms 365 today for garden office pricing information!
GYM GARDEN ROOMS WITH TOILET AND SHOWER
Having a garden gym is ideal for ease of access and one of the most popular options clients can choose for a bespoke garden room. After a workout in your purpose-built home gym, being able to leave feeling clean & refreshed is great, which is why suggest having a shower room and toilet installed to complement it.
This is also an ideal option if you run a personal training company. This provides a fully insulated, kitted-out garden gym complete with a place for clients to freshen up after their workout, helping you to keep your happy customers coming back!
GARDEN ROOM SPA, SAUNA & STEAM ROOM WITH BATHROOM OR SHOWER ROOM
Another common choice for garden buildings is a home spa, sauna and steam room. Created specifically as a place of rest and relaxation, leaving all hot and sweaty isn't ideal. Spa garden rooms are a great place to install a bathroom or shower room, with a shower offering a space to clean up and a bath providing another quality option for relaxation.
ANNEX GARDEN ROOM WITH EN SUITE TOILET
A private toilet is essential if you intend to have an annexe garden room that is suitable for someone to live in, be it a small air bnb for rent.
A garden room with its own convenient toilet means that your lodger or guest won't need to leave the comfort of the building for the bare necessities.
How is a toilet installed in a garden room, shed or summer house?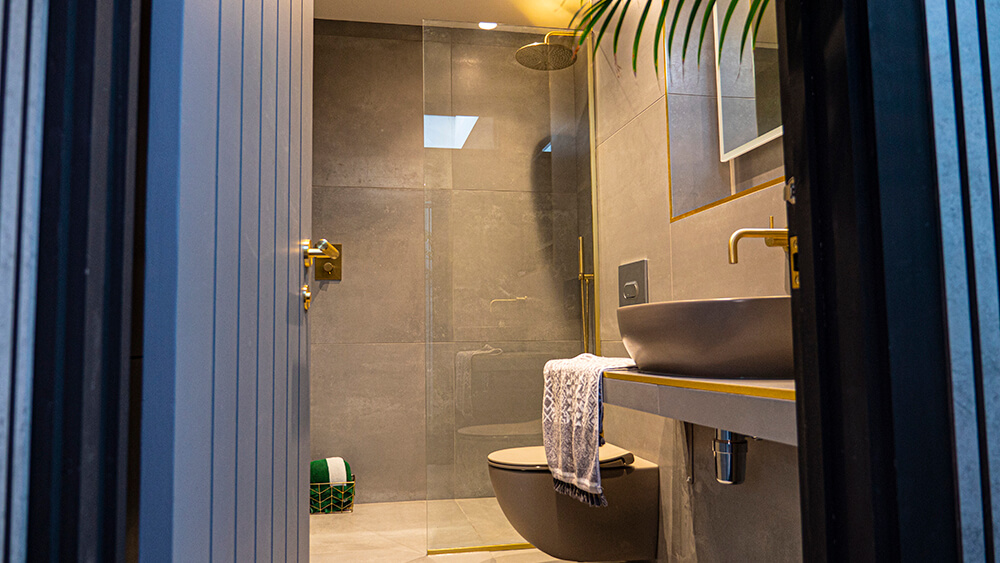 Installing a toilet inside a garden room should be planned during initial design stages, as attempting to fit a toilet inside a pre-built structure will no doubt lead to additional costs and longer project times.
Putting a working toilet in garden room buildings is easy providing it is planned and prepared for. Try to inform the garden room builders early so they can allocate suitable space for the toilet plumbing, safely wire electricity and lighting away from pipework and also ensure that the design matches the interior style of your garden building. There is an extensive range of design options on the market, and pre-planning will help you ensure the quality of what you choose.
For a large percentage of toilet installations, the system will be connected to an existing water supply and sewage pipes on your property – one for clean water, and one to remove sewage or wastewater. These pipes have to be underground, so you may need excavation work to lay pipes properly. The aforementioned groundwork is generally the most expensive aspect of bespoke garden room toilet installation.
If you cannot connect your toilet to a pre-existing system, then you will need to spend a lot more time and money on your installation. This will be especially true for longer gardens with a garden room situated right at the end, as more excavations will need to be done to connect your pipes properly.
GARDEN ROOM WITH TOILET – PLANNING PERMISSION INFORMATION
When you are attempting to think up what kind of enticing garden room you would like to create inside your backyard, it tends to be planning permission that holds you back from truly turning your dreams into a reality. Fortunately, the process of installing a toilet in a garden room needs no planning permission due to its detachment from any other property.
It's always a good idea to check in with your Local Planning Authority just to be certain, but for most outbuildings Permitted Development rights apply – this means that garden rooms can be installed without the need for the homeowner to apply for planning permission, so any further concerning decisions that relate to the garden room can be made by the homeowner themselves without gaining confirmation or permission from the council.
Building regulations for having a garden room with toilet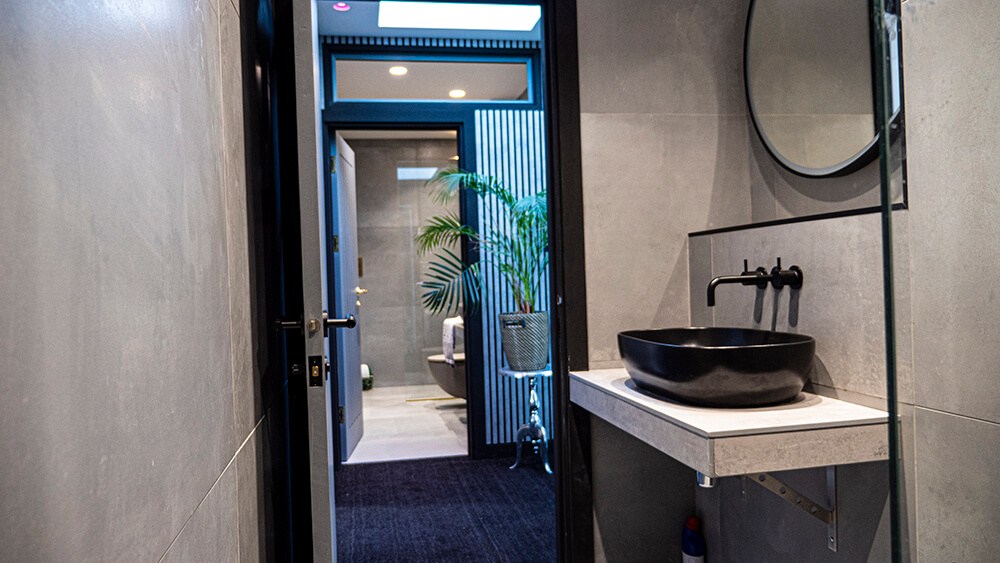 In most circumstances, you don't need to follow any kind of building regulations when you would like to create your own garden room with a toilet. Building regulations are different to Planning Permissions as they focus on the structural integrity rather than design and aesthetics.
Priorities for building regulations include efficiency, fire safety and ventilation, but due to the fact that garden rooms are classified as small outbuildings, they are excluded from any normal regulations unless they are attached to your home, more than 15m squared, or have their own self contained sleeping accommodation.
It's a good idea to investigate any necessary building regulations if your garden room does meet the criteria described above, as you may need to follow certains steps to make sure you create a legal and safe structure.
COSTS ASSOCIATED WITH A GARDEN ROOM THAT HAS A SHOWER OR TOILET
There are various different things that need to be taken into consideration when you are attempting to figure out the cost of a garden room with a shower or toilet.
The planning permission, regulations, tradesmen, materials, tools and time that you need for a shower or toilet are just a few of the essential things required that can cost a lot of money for you to source.
You might need to install an electrical panel with all-new wiring, and there's no doubt about the fact that you will need pipe park and waste outlets if you plan on putting a toilet inside your summer house, garden room or shed. It's far more expensive to rip up a pre-existing floor to carry out all of these works, so it makes far more sense to install a toilet and/or shower in the beginning of your construction journey rather than after its completion.
GET A GARDEN ROOM WITH A BATHROOM WITH GARDEN ROOMS 365
No matter what kind of garden room you would like to create at home, you can easily install your own shower or toilet to make the space more convenient and comfortable than ever.
Here at Garden Rooms 365 we are experts in building garden rooms of all shapes, sizes and styles, and we can install the most amazing fully functional bathrooms, toilets, showers all round the UK.
Every garden building we create is built using sustainable materials and is the perfect solution for making the most of your garden space. An ideal family space, a garden room creates an aesthetic like no other at the fraction of the cost compared to home extensions.
Call us today to get a FREE quote and see how we can turn your garden room dreams into a reality in no time at all!