Garden rooms are the perfect addition to any home. They provide a comfortable space for your family to enjoy during all seasons, and you can use them as an office or study area. Depending on how much room you need, materials used, and what extras you want to add to your garden room, the price or cost will vary greatly.
Garden Room Prices
There are a few variables that could impact the price you would pay for a garden room. These variables include the shape, size and style you prefer.
Shape, Style And Size
The cost of your garden room will depend on which shape you're interested in. Your options are 365 Floating Corner, 365 Corner, 365 L-Section, 365 Central, 365 Concave and 365 Central Canopy. Once you've made a decision on your shape, you'll have to consider your ideal style between classic, rendered or stone. Last but not least, the size you need your garden room to be. A larger space will increase the price. Here is a pricing breakdown with starting prices.
Pricing Breakdown
365 Floating Corner Garden Room
The starting price on a 365 floating corner garden room starts at £25,999 and rises based on which options you choose when it comes to style and size. For example, a Classic Timber floating corner 5mx6m starting prices would be £34,000, whereas a Stone Finish on a 5mx5m garden room prices would start at £29,000. The size options on the 365 Floating Corner garden room are 5mx4m, 5mx5m and 5mx6m.
365 Corner Garden Room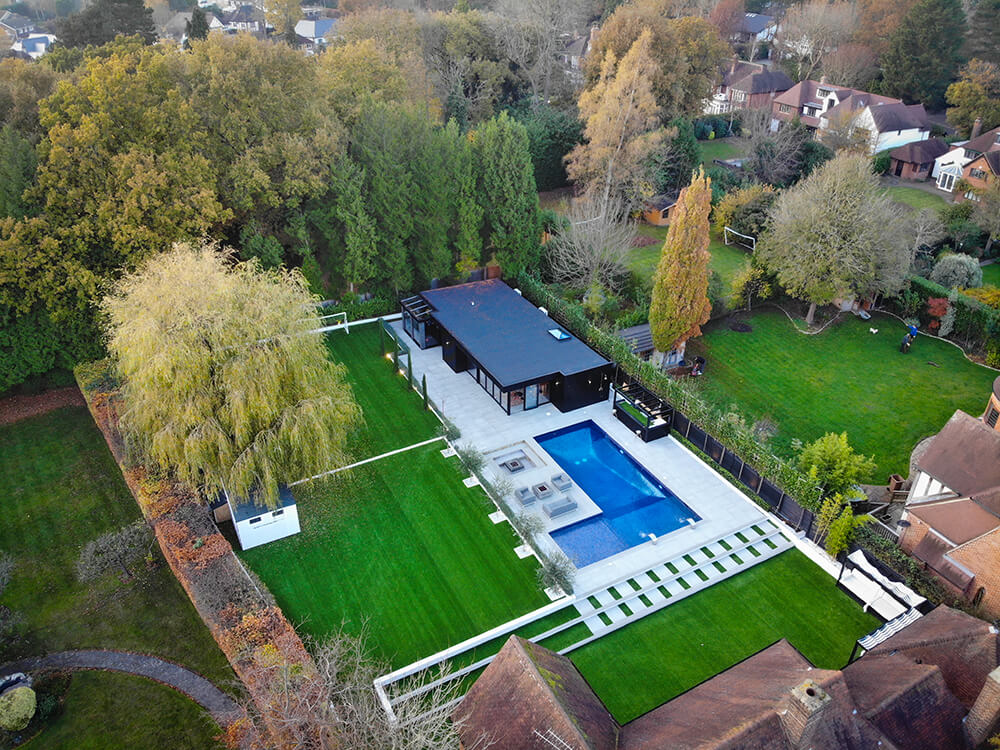 The 365 Corner garden room offers options in classic timber, rendered or stone styles but offers more flexible sizes in this shape. The sizes on offer start from 2.5mx2.5m, rising up to 6mx5m. The starting price for classic timber styles starts at £14,350, rising to a £27,999 starting price for larger rooms. Rendered and stone finishes are slightly more expensive, with starting prices at £16,750 for small rooms climbing to a starting price of £33,000 for 5mx6m rooms.
365 L-Section Garden Room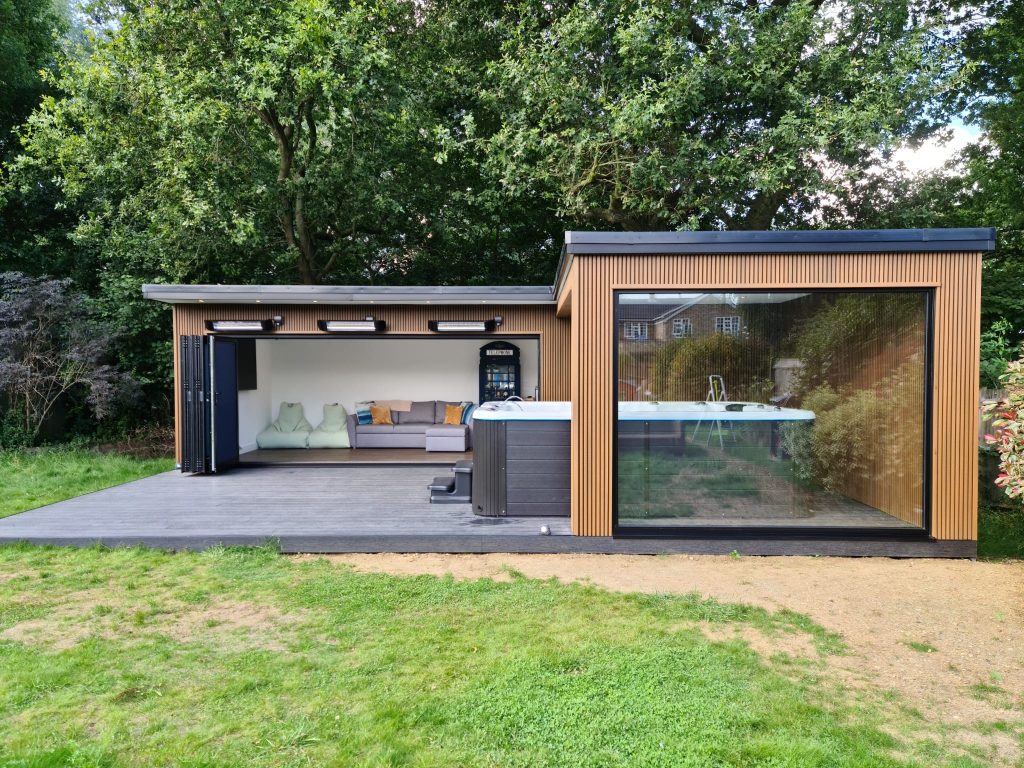 This garden room starts with prices on the classic timber style for a 5mx4m room at $22,000, with the starting price rising to £25,000 on the larger 5mx6m option. Rendered or stone options would cost you £27000 on the smaller option, rising to £33,000 on the larger room.
365 Central Garden Room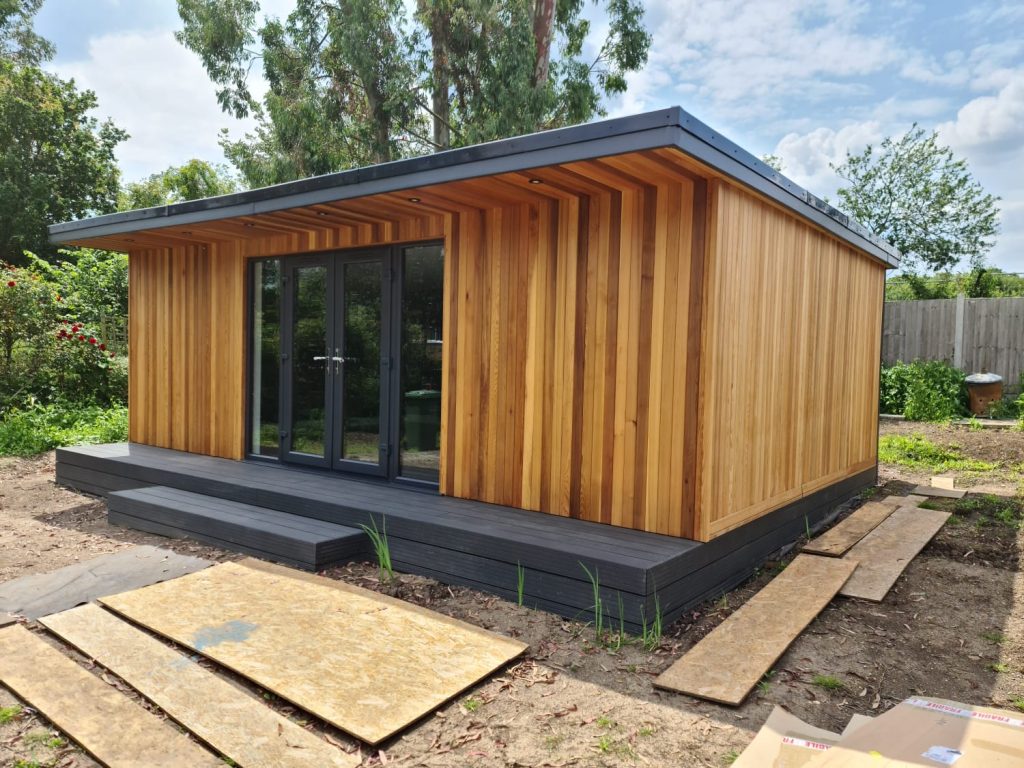 The central garden room is one of the cheaper options, with prices on the classic timber finish starting at £13,550 on the 2,5mx2,5m size, rising through six size options in total. The 5mx6m room starts at £27,050. The rendered and stone styling starting prices would be around £2000 higher than the classic timber on the smaller rooms, rising to £5000 pounds more on the larger rooms.
365 Concave Garden Room
The 365 Concave garden room starts off at around £15,350 for the classic timber finish on a 2,5mx2,5m small garden room. The largest room of 5mx6m starts at £29,344 with classic timber styling. The rendered and stone styling options add an additional £2,000 – £3,000 to the smaller rooms and are £5000+ more expensive than the classic timber on the 5mx6m garden room.
365 Central Canopy
This garden room is very similarly priced to the concave room mentioned above. In fact, the prices are around £1,000 pounds cheaper per size option than the 365 concave room. Prices for the classic timber finish starts at £14,150 for a 2,5mx2,5m garden room, rising to £28,199 for a 6mx5m room with a classic timber finish. The stone and rendered finishes will cost you between £2000 to £5000 more than the classic timber styling depending on the room size.
Things To Consider For Your Garden Room Quote
Customisation is key when it comes down to your garden room. Garden Rooms 365 offer various styling extras that could make your dream garden room a reality. The following areas could impact the price of your garden room:
Garden Room Exterior
When choosing the exterior of your garden room, you will need to consider what style or 'look' that you desire. Before you start your search, have an idea in mind of the exterior style that you want to go for.
There are many different options available, including rendered walls with natural stone flags, board and batten siding, shiplap cladding (a tongue and groove effect), horizontal wood planks (favoured in Scandinavia), and modern aluminium cladding.
The choice is entirely up to you. Each option will influence the cost of your garden room, as well as its maintenance requirements, durability and appearance.
Garden Room Flooring
Before choosing a garden room flooring, consider what you prefer. For example, if you want to incorporate an outdoor feel into your garden room, then look for wooden flooring with a rustic charm. If it's going to be used as an office or playroom, then opt for something hard wearing and practical such as stone-effect flooring.
The price of the garden room can be affected if your preference is for laminated flooring or solid wood. The type of material you choose will affect the cost, but so will the size of the room and if it involves other types of building work.
Garden Room Bathroom
The size of the garden room bathroom is another factor that can alter the price. If you have a large family and want to incorporate a shower, WC and washbasin, then it will cost more than if you were opting for laminate flooring or solid wood.
If opting for a separate shower area in your garden room, then this would also add to the overall cost along with extra plumbing work in order to connect it to the mains water supply.
Garden Room Kitchen
When adding this room to your home, you are adding more than just another room, but also an outdoor living space where you can cook great meals for friends and family in comfort. The dimensions of your new Garden Room Kitchen will depend on what style best suits your home and backyard. Whatever design you choose will increase the value of your property, making it easier for you to sell when the time comes.
Garden Room Bar
Adding a Garden Room Bar to your home is the perfect way to entertain guests and create an atmosphere that brings people together. There are various styling options that will impact the price of a bar as part of your garden room.
Garden Room Spa
A Garden Room Spa is the perfect retreat for relaxing, refreshing and rejuvenating after a long day at work or just to escape with friends. With plenty of options available, you are sure to find something that will suit your needs within your budget.
Garden Room Heating
Adding heat to your Garden Room won't cost you a lot, but it will make your time in the garden room much more enjoyable. Heat options are available for under-floor heating, radiators or other forms of thermal heating, making it perfect for all seasons. Make sure to consider your heating needs before making a final decision.
Garden Room Doors
There are various door options for your Garden Room, including sliding doors, hinged doors and many more. Whatever you choose will depend on the style of garden room you would like to create. Each door option has a different price implication to consider.
Garden Room Cost Calculator
If you'd like to compare a few options to consider your budget, this garden room cost calculator will help you get a better understanding of the cost implication for your ideal garden room.
Call Garden Rooms 365 for Garden Room Builders Near You
Garden Rooms 365 is a design and build company specialising in bespoke Garden Rooms. We build our garden rooms to the highest quality. We're proud to offer a range of different styles and room designs, all at affordable prices. Each garden room we build incorporates the finest materials and unbeatable attention to detail, allowing us to provide exceptional service and garden room designs to meet all your needs.
Call Garden Rooms 365 for a quote today on 01268 964193 or 07947 613 679. Alternatively, send us an email at info@gardenrooms365.co.uk. We'd love to help you make your dream garden room a reality.