Summer is a great time of year, but most of our time is occupied with keeping the kids entertained. This means that many summer months can be spent in a house without any electric light. But what if your daughter brought her book into the garden room to shade from the sun, or your son wanted to continue with his model making?
It gets dark earlier in the winter than you may think. As the light fades, your garden room or summer house is not the cosy place you want it to be. What with coats, hats and scarves on too – dark winter evenings are further diminished by darkness. Luckily there are plenty of lighting ideas for our wonderful summer homes.
In this blog post, we will explain how you can add some lighting to your summer house for those low light hours. We will also explain which types of lighting suit different uses.
Types of Garden Room Lighting
The last few years have seen some new energy-efficient technologies come onto the market, including LED bulbs which are more efficient than traditional incandescent light bulbs. They are also longer-lasting and brighter too. There are, however, issues with the light spectrum that they emit. It is often felt by some users that LED lights can give off a harsh brilliant white light that does not mimic natural sunlight. If you're considering using LEDs for your summer house lighting, then be sure to check out products such as dimmable or warm white units as opposed to those that produce a very cold stark glow (which may suit modern style properties but not traditional buildings).
Along similar lines is 'natural spectrum' lighting, which is another LED based technology that mimics natural light by offering a colour temperature of 5500K. They are designed to recreate the look and feel of daylight.
Another innovation for outdoor spaces is solar powered garden lights. They simply harness energy from the sun during the day using photovoltaic cells and then automatically turn on once dusk falls, providing a soft ambient glow into your summer house or shed. No wiring or mains supply is required, so installation time is kept to an absolute minimum plus, there's no cost involved either as you're not paying for electricity – just sunlight!
One final technology worthy of note (and the one we'll explore in this article) is battery powered outdoor lights. These often come in the form of miniature LED lanterns and are often used as decorative accessories within a garden room or summerhouse.
When it comes to lighting a garden room, there are several options available: solar powered outdoor lights, battery-powered lights for a summerhouse, wall lights for a summerhouse, ceiling lights and decorative garden room lighting.
Solar Powered Summer House Lights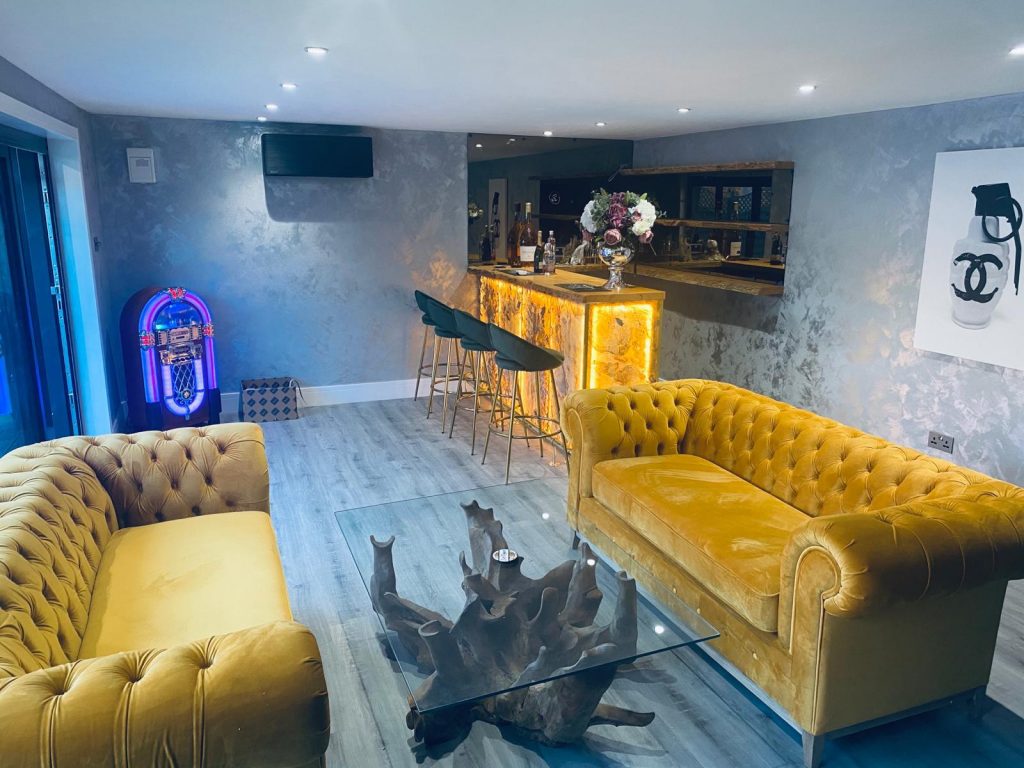 If you wish to use your garden room during the day and don't want to rely on batteries, then solar-powered summer house lights are a great option. Solar power is free once you've paid for the initial installation cost, but performance will vary depending on how much sunlight your property gets throughout the day. They're also not always as bright as mains powered lights which could be an issue if security is important to you. If set up correctly, these small outdoor lights will automatically light up when it gets dark – providing very energy-efficient lighting!
Battery Powered Lights for a Summer House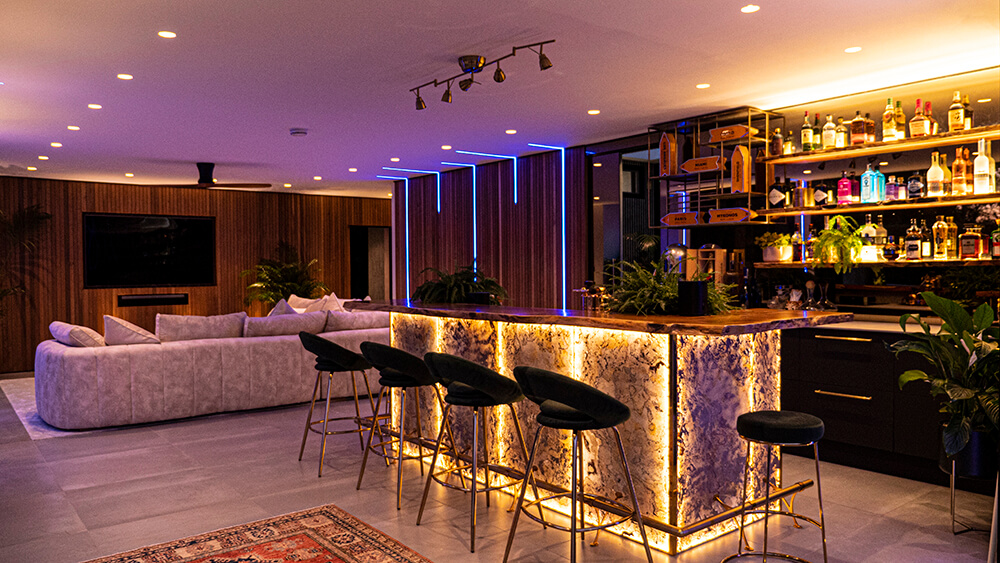 Ideal if your summerhouse doesn't receive much natural light, these can be used both indoors and out. Unlike solar lights, they do not need direct sunlight to work, although battery life will suffer if they are in constant use during poor weather conditions. As many of us take our devices outside with us whilst we're away from the power source, we know how frustrating it can be if they suddenly run out of charge. Batteries can provide an essential fail-safe in case there is no sun shining on the solar panel. However, having you suddenly switch off can ruin any game of monopoly! But there are some great battery-powered lights for a summer house on our website, including the small-sized LED solar light.
Wall Lights for a Summer House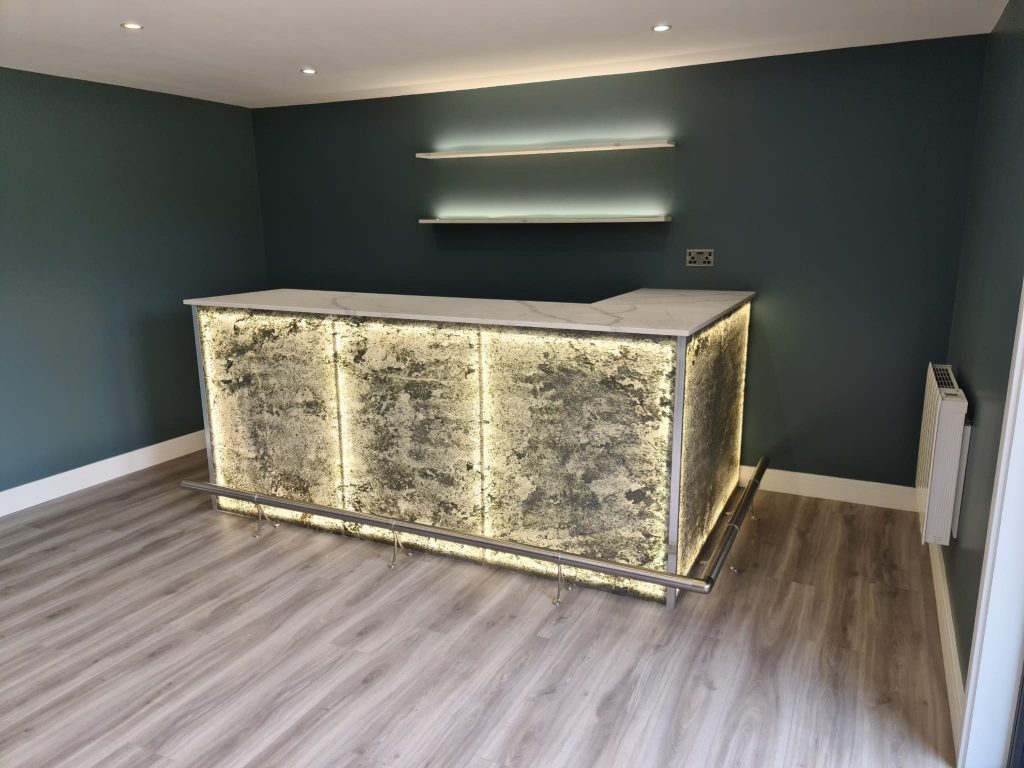 Wall lights are perfect if space is limited and you don't want to clutter up your garden room with lots of kits. A wall mounted light provides bright, shadow free lighting that can be used when fixing dinner or completing any craftwork. They also look stylish in your garden room – especially when fitted with decorative shades.
Ceiling Lights for a Summer House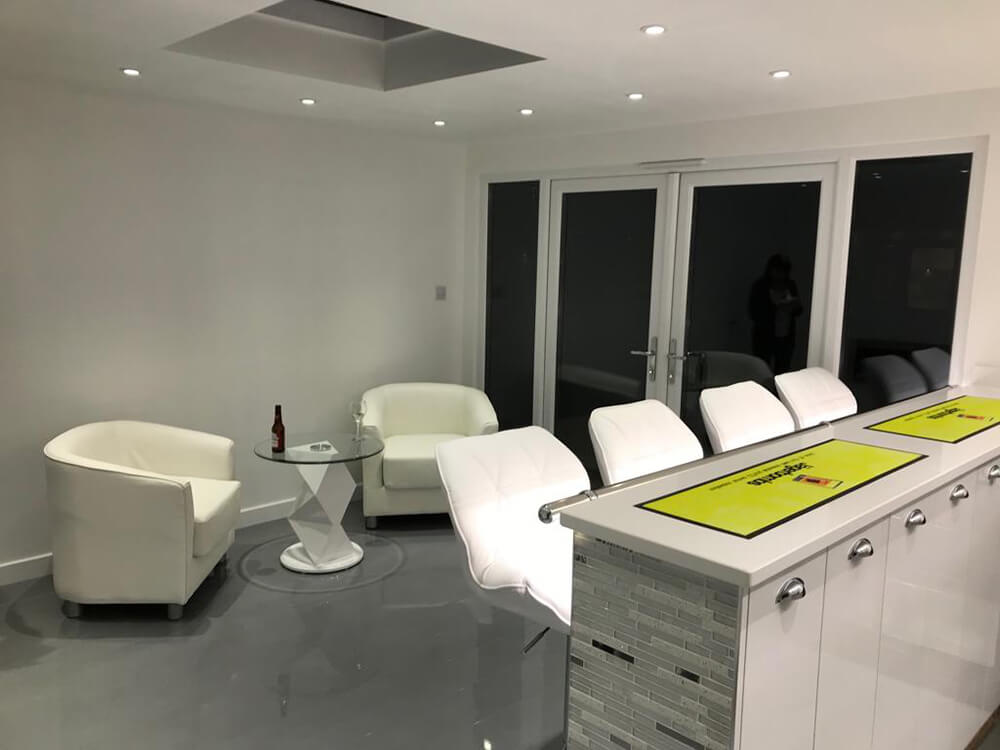 Ceiling lights provide ambient lighting, which is perfect for most uses within your summer house, like reading books, doing craftwork or even watching TV with the family. They come in various sizes, shapes and colours so you can make a real statement within your summer house.
Decorative Garden Room Lighting & Lamps
If you want to make your garden room truly special, then decorative lighting is a great option. There are many different styles of lamps available, from modern LED lights, traditional-looking oil lamps and even cute fairy lights, which can be strung across the roof. Another self-contained but very impressive light source is glass jars filled with water and small colourful glow sticks or firefly lights. This creates an atmospheric effect that kids will love as the glow stick slowly fades away.
Contact GR365 for Garden Room / Summer House Lighting Ideas
GR365 has a vast array of garden room products on offer, including some fantastic garden room lights. We specialise in supplying eco-friendly lighting options and can provide further information on any of the points above plus much more e.g. Garden Room bespoke design and construction.
Get in touch today if you would like some free advice on which types of garden room/summer house lights. If you want to speak with one of our helpful customer service team, then please call us on 01268964193 or send us an email at info@gardenrooms365.co.uk. We're here to help and love to hear your ideas, so let's light up your summer house!